When Spanish explorer Hernando de Soto first encountered the Cherokee in 1540 he found a unified, peaceful nation of about 25,000 people. Some three hundred years later, almost to the year, the Cherokee became a divided nation of people with little remaining of their vast territory and national pride.

The Cherokee coexisted peacefully with early settlers, but the white man's lust for gold and land was all consuming and between 1684 and 1835 over 30 treaties chipped away at their original 135,000 square miles of Cherokee territory.

The Cherokee issue was hotly debated in Congress for many years. Sadly, speeches on behalf of the Cherokee by Henry Clay, Davy Crockett, Daniel Webster and other prominent statesmen fell on deaf ears. President Andrew Jackson, whose life was ironically saved by Cherokee Chief Junaluska at the Battle of Horseshoe Bend in 1812, was the one who signed the final "Removal Treaty."

Beginning in the spring of 1837 and continuing through the fall of 1838, the Cherokee people were rounded up and corralled into hastily constructed stockades. So began the "Trail of Tears," a 1,200 mile journey to unfamiliar land.

Under the command of General Winfield Scott, over 600 wagons, steamers and keel boats moved about 16,000 Cherokee by land and by river. The infamous journey took between 104 and 189 days, and before they arrived in Oklahoma, torrential rains, ice storms, disease and broken heartedness had claimed the lives of at least 4,000 men, women and children.

A Georgia soldier who took part in the removal wrote, "I fought through the War Between the States and have seen many men shot, but the Cherokee Removal was the cruelest work I ever knew."

Will Thomas, an adopted Cherokee, purchased 56,000 acres which eventually became the Qualla Boundary where the Eastern Band of Cherokee Indians now reside. To appreciate the impact of the Trail of Tears on the Cherokee people, we encourage visitors to see the exhibits at The Museum of the Cherokee Indian.


Trail of Tears Resources:

Accounts of the Cherokee Trail of Tears - Read a 1970 St. Louis Post-Dispatch interview that relates the hardship of the Trail of Tears, a government-commanded journey of 1,000 miles that took the lives of hundreds of Native Americans.

Cherokee Rose, The - Relates the devastating "Trail of Tears," a story of forced removal from the Cherokee homelands. Embedded links offer additional material from outside resources.

Trail of Tears: Ngeorgia.com - Read through historical material that covers the Cherokee struggle with white encroachment to the eventual march that forced them from their Georgia home. Lots of accompanying material rounds out the whole story.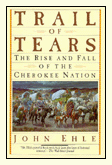 Trail of Tears

by John Ehle
From the Publisher: The fascinating portrayal of the Cherokee nation, filled with Native American legend, lore, and religion -- a gripping American drama of power, politics, betrayal, and ambition.